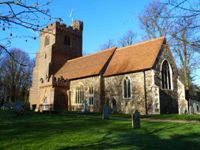 Incumbent:
Revd Terry Brown
Please contact a warden
in the first instance.

Churchwardens:
Judy Cecil
Tel: 01245 224747
Michael Puffett
Tel: 01245 222066



Safeguarding Details:

We are committed to Safeguarding Children, Young People, Victims/Perpetrators of Domestic Abuse and Vulnerable Adults.

The PCC has adopted the Church of England's policies and best practice on safeguarding which may be found on the

Church of England's website

.

This link

has the detail of Sandon's arrangements.

Our Parish Safeguarding Officer is Alison Read, who may be contacted at church or by

email

.

The Chelmsford Diocese Safeguarding Team can be contacted at 01245 294444 or

safeguarding@chelmsford.anglican.org

.

Out of hours, please contact Social Services on 03456 061212.

In a safeguarding emergency, dial 999.


Information for Weddings, Baptisms and Funerals
Weddings Please see yourchurchwedding.org for information about Church Weddings. You will see the requirements for you to marry in a particular church and many helpful hints for choosing readings and hymns, how to contact the vicar, the roles of ushers, best man and bridesmaids plus much more.
Wedding Flowers and Bells Lesley Worboys co-ordinates flowers in church. Please conatact her on 07922 120181. Please contact Mike Worboys on 07801 716532 if you will want the church bells rung.
Baptisms Please see churchofenglandchristenings.org for information about Christenings. You will find help with planning, what Christening/Baptism means, how to choose Godparents and much more.
Funerals Please see churchofenglandfunerals.org for step by step information about planning and going to funerals. There are suggested hymns and readings as well as helpful suggestions for all aspects of the funeral service and more.

Next Sunday's Services
First Sunday in Lent
10:00 am Sung Eucharist
Sunday Services
1
st
, 3
rd
, 4
th
& 5
th
Sundays
10:00 am Sung Eucharist
2
nd
Sundays
 8:00 am Said Holy Communion
10:00 am Family Service
A supervised children's corner is available in the North Aisle for Sunday 10 am services. Please bring your children along or stay yourselves too. Toys, playdoh, paper and crayons will be available.
Tuesday Services
9:30 am Said Holy Communion followed by Refreshments


We are all one in Christ Jesus.
We belong to him through faith,
heirs of the promise of the Spirit of peace.


Tuesday 25th February
Shrove Tuesday Pancakes at 10:30 am in St. Andrew's Room
Wednesday 26th February
Ash Wednesday Service with ashing at 7:30 pm
The theme of our lent courses this year is Climate Change.
There will be the opportunity to hear talks by our Bishops and Archdeacon and we encourage You to attend. Lifts can be arranged. Just sign the list on the welcome table in the north asile
Wednesday 4th March – Chelmsford Cathedral
Week 1:AIR(Led by The Bishop of Barking, The Rt. Revd Peter Hill)
Wednesday 11th March – Chelmsford Cathedral
Week 2:WATER(Led by The Bishop of Chelmsford, The Rt. Revd Stephen Cottrell)
Wednesday 18th March – Chelmsford Cathedral
Week 3:FIRE(Led by The Bishop of Colchester, The Rt. Revd Roger Morris)
Wednesday 25th March – Chelmsford Cathedral
Week 4: EARTH(Led by The Bishop of Bradwell, The Rt. Revd Dr. John Perumbalath)
Wednesday 1st April – The Orchards, Meadgate Church, Great Baddow
Week 5:LIFE(Led by The Archdeacon of Chelmsford, The Ven. Elizabeth Snowden)
All sessions 7:00 pm – 9:00 pm; there is no charge
Our Thursday Morning Lent course will follow the Operation Noah study course based on 'Climate change and the purposes of God: a call to the Church'
If you wish to attend please sign the list on the welcome table to help us with the number of notes required.
Thursday 5th March – St. Andrew's Room
Week 1: Does climate change matter? If so, why does it matter?
Thursday 12th March – St. Andrew's Room
Week 2: How can I better celebrate creation as God's gift?
Thursday 19th March – St. Andrew's Room
Week 3: What is God asking of me?
Thursday 26th March – St. Andrew's Room
Week 4: What do I need to change?
Thursday 2nd April – St. Andrew's Room
Week 5: What can I do now to cherish God's earth?
All sessions 10 am – 11:30 am; there is no charge
Holy Week and Easter Services
Sunday 5th April Palm Sunday
10 am Procession from the Green and Sung Eucharist
Monday 6th April
9:30 am Morning Prayer
7:30 pm Stations of the Cross
Tuesday 7th April
9:30 am Holy Communion
7.30pm Stations of the Cross
Wednesday 8th April
9:30 am Morning Prayer
7:30 pm Stations of the Cross
Thursday 9th April
9:30 am Celtic Morning Prayer
11 am Chrism Service at Cathedral
6:30 pm stripping of altar
7 pm Passover Meal (Please sign list on welcome table)
9:30 pm Watch until 11 pm
Friday 10th April Good Friday
9:30 am Stations of the Cross
11 am United Service in Chelmsford Centre
2 pm The last hour by the Cross
Sunday 12th April Easter Day
8 am Holy Communion
10 am Sung Eucharist
11.30am Easter Egg Hunt at the Crown