Update January 2020
We recently received a Prayer Diary from the diocese which can be accessed
here
.
Update December 2019
We recently received a newsletter from the diocese which can be accessed
here
.
Update July 2019
January 2019 PCC agreed to support 6 charities during the year to 31
st
December, The Friends of Marsabit being one of them. Each charity will receive £800, one sixth of our commitment to give 10% of our income for 2018, £4800.
We recently received a newsletter from the diocese which can be accessed
here
.
Update April 2017
The PCC decided to cease our church giving to the link diocese of Marsabit at the end of our 5 year commitment…
Individuals continue to support them in prayer and financially.
Update April 2016
We report to the Annual Church meeting.
In 2012 the PCC decided to promise an annual sum of £1920 to the diocese of Marsabit in North Kenya to support a Minister and an Evangelist. We have continued to raise money for this and we also remember them in our prayers. The Revd Joshua ministers in Kargi and the evangelist, James, is in an even more inhospitable region of the country but with our support continues his work. Rob Martin, the Bishop of Marsabit, has now retired and his successor, Daniel Qampicha, whose wife is Sefia, has been appointed. In October Terry along with 5 other clergy went to Marsabit and he has been able to tell us something of life there from first hand experience. Lee Batson, who was also on the October trip, did the same for the men at the Men's breakfast in January.
Update December 2015
We receive Christmas Greetings from Rob and Sue Martin. You can read it at this
link
.
Update Autumn 2015
Revd Terry Brown is a part of a party which visits Marsabit. These are some of the photos he returned with.













Update August 2014
At a later PCC meeting we agreed to raise funds and Bishop Rob was able to go ahead and buy the motorbike for Rev Joshua Umuro knowing his costs would be covered.
Update November 2014
The PCC have sent £1000, finding the funds from part of the Southend Children's Choir concert proceeds held in September and other events.
Update August 2014
At a later PCC meeting we agreed to raise funds and Bishop Rob was able to go ahead and buy the motorbike for Rev Joshua Umuro knowing his costs would be covered.
Update June 2014
Bishop Rob and his wife Sue came to visit St Andrews on 22
nd
June.
We celebrated a Kenyan setting of the Eucharist and enjoyed a Kenyan welcome when Bishop Rob brought blessings to us from Marsabit and we gave our blessings to him to take back for our Kenyan friends. We tucked into a bring and share lunch and heard news of the Diocese of Marsabit.
Sue had brought some Kenyan articles for sale to raise funds for the diocese. These were bead mats and Christmas decorations, as well as patterned cushion covers and string of beads in every colour imaginable. Some of us now have lovely reminders of Marsabit around our houses.
We heard that travelling around can be made easier with a motorbike because they suit the terrain and are relatively cheap to run. This enables clergy to reach their congregations much more quickly than walking or by bicycle.
We agreed to look into raising funds - £1000 - to help to buy a second hand motorbike for one of the ministers.
On 20th March 2013
Bishop Rob Martin, Bishop of Marsabit
, writes,
"Greetings from Marsabit.
"We had a lovely surprise last week, when an envelope arrived from Sandon Church, Sunday school!
"Lots of pictures and prayers from the children, great!
"I have passed them on to Rev. Joshua, and he will get a response from the children, when he can - he saw a few yesterday.
"He has had great trouble getting back to Kargi, after a meeting in Marsabit, because there is no public transport there and no vehicles are going at the moment! But yesterday he got a lift there and back, so has alerted the people and the children!
"He is in my office at the moment and passes his greetings to all of you. The children he saw yesterday were very happy, and they will draw some things in return. "Please continue praying for us, and we will pray for you, as we interact together, because it encourages us. We are very touched by the child who wrote that we love the children of Marsabit!
"He will write later - he is not on email.
"Blessings to you all and thanks for your support,
"+Rob"
The PCC Minutes of
14th May 2012
state:
"Clive (Ashley) proposed that we could promise an annual salary for a Priest and an Evangelist in Kenya (£1920 pa) for at least 5 years as well as give (£480) to a local charity in Essex. Seconded by David (Farrar). It was agreed unanimously."
Subsequently the Standing Committee decided that this would be effected by sending £480 to the Marsabit ACK account quarterly at the start of March, June, September and December. We are on course with this since the start of June 2012.
The Bishop Rob Martin, Bishop of Marsabit, has identified Rev Joshua Umuro, who is of the Rendille tribe and is beginning work as a Priest in the parish of Kargi about 50km North West of Marsabit itself.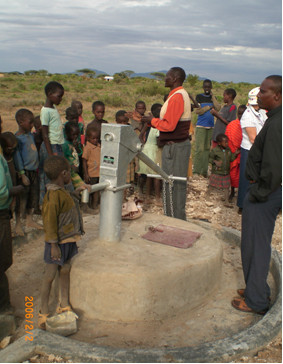 Kargi is a hot, tough place, which rarely has water and depends on boreholes and shallow wells to survive. It is about two hours drive from Marsabit out in the Chalbi desert. People are pastoralists, depending on camels and goats.
We are currently building Joshua a vicarage but do not have enough funds - he sleeps in the two rooms at the back of the nursery class, with wife and 5 children.
The Kargi church has planted another church about 20km further away where there is an evangelist James Keifule, whom we are also supporting.
Do keep Rev Joshua, James and the people of Kargi in your prayers.
For further information or suggestions please contact
Richard Cecil
.